Product Description
Aluminum Encoder Coupling Beam Coupling
Description of Aluminum Encoder Coupling Beam Coupling
1. One-piece metallic beam coupling
2. Zero backlash, flexible shaft
3. Spiral and parallel cut designs available
4. Accommodates misalignment and shaft endplay
5. Identical clockwise and counterclockwise rotation
6. Available in aluminum or stainless steel
7. Multiple bore and shaft connecting configurations
 
Parameter of Aluminum Encoder Coupling Beam Coupling
| | | | | | | | | |
| --- | --- | --- | --- | --- | --- | --- | --- | --- |
| Model | D (mm) | L (mm) | d1-d2 (mm) | hex screw | L1 (mm) | L2 (mm) | L3 (mm) | Fasten Torque (n.m) |
| LR-D-D15L20 | 15 | 20 | 3.0-8.0 | M3. | 2.5 | 2 | 0.4 | 1.2 |
| LR-D-D19L25 | 19 | 25 | 6.0-10.0 | M3. | 3 | 2 | 0.4 | 1.2 |
| LR-D-D25L30 | 25 | 30 | 8.0-12.0 | M4 | 4 | 2 | 0.4 | 2.5 |
| LR-D-D30L35 | 30 | 35 | 8.0-18.0 | M4 | 4 | 2.5 | 0.5 | 2.5 |
| LR-D-D35L40 | 35 | 40 | 8.0-22.0 | M5 | 5 | 2.5 | 0.5 | 5 |
| LR-D-D40L45 | 40 | 45 | 10.0-28.0 | M6 | 6 | 3.5 | 0.6 | 8 |
| | | | | | | | |
| --- | --- | --- | --- | --- | --- | --- | --- |
| Model | Max bore (mm) | Rated Torque (n.m) | Max Torque (n.m) | Max speed (rpm) | Moment of Inertia (kg.m2) | Permissible Radial Deviation (degree) | Permissible Angular Deviation (degree) |
| LR-D-D15L20 | 8 | 0.5 | 1 | 30000 | 2.5*10-7 | 0.05 | 0.5 |
| LR-D-D19L25 | 10 | 1 | 2 | 25000 | 5.8*10-7 | 0.05 | 0.5 |
| LR-D-D25L30 | 12 | 1.5 | 3 | 18000 | 1.8*10-6 | 0.05 | 0.5 |
| LR-D-D30L35 | 18 | 2 | 4 | 16000 | 4.7*10-6 | 0.05 | 0.5 |
| LR-D-D35L40 | 22 | 3 | 6 | 14000 | 1.1*10-5 | 0.05 | 0.5 |
| LR-D-D40L45 | 28 | 6 | 12 | 12000 | 2.3*10-5 | 0.05 | 0.5 |
| | | | | |
| --- | --- | --- | --- | --- |
| Model | D (mm) | L (mm) | d1-d2 (mm) | Fasten Torque (n.m) |
| LT-D-D15L20 | 15 | 20 | 4.0-5.0 | 0.7 |
| LT-D-D19L25 | 19 | 25 | 6.0-10.0 | 0.7 |
| LT-D-D25L30 | 25 | 30 | 8.0-12.0 | 0.7 |
| LT-D-D30L35 | 30 | 35 | 8.0-18.0 | 1.7 |
| LT-D-D35L40 | 35 | 40 | 8.0-22.0 | 4 |
| LT-D-D40L45 | 40 | 45 | 10.0-28.0 | 4 |
Model

Max bore (mm)

Rated Torque (n.m)

Max Torque (n.m)

Max speed (rpm)

Moment of Inertia

(kg.m2)

Permissible Radial Deviation

(degree)

Permissible Angular Deviation

(degree)

LT-D-D15L20

5

0.5

1

30000

2.5*10-7

0.05

0.5

LT-D-D19L25

10

1

2

25000

5.8*10-7

0.05

0.5

LT-D-D25L30

12

1.5

3

18000

1.8*10-6

0.05

0.5

LT-D-D30L35

18

2

4

16000

4.7*10-6

0.05

0.5

LT-D-D35L40

22

3

6

14000

1.1*10-5

0.05

0.5

LT-D-D40L45

28

6

12

12000

2.3*10-5

0.05

0.5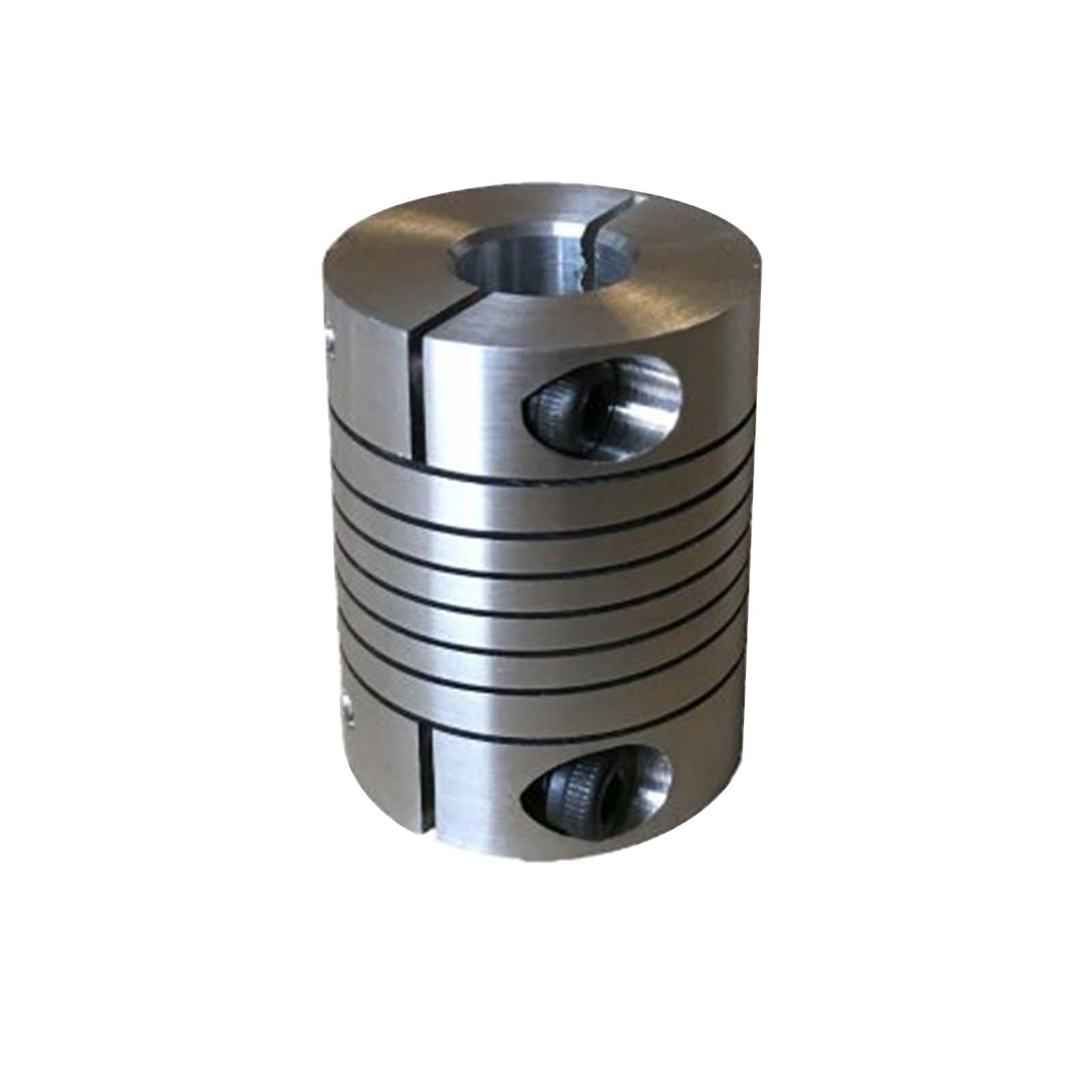 Temperature and Environmental Limits for Various Beam Coupling Materials
The temperature and environmental limits of beam coupling materials depend on their specific composition and properties. Different materials have varying degrees of resistance to temperature extremes, chemicals, humidity, and other environmental factors. Here are some common beam coupling materials and their associated temperature and environmental limits:
1. Stainless Steel:

Stainless steel beam couplings are known for their excellent mechanical properties and resistance to corrosion. They can typically operate within a wide temperature range, from -40°C to 300°C (-40°F to 572°F). Stainless steel is also resistant to most chemicals, making it suitable for various environments, including industrial and outdoor applications.

2. Aluminum:

Aluminum beam couplings offer lightweight construction and moderate mechanical properties. They have a more limited temperature range compared to stainless steel, typically operating between -20°C to 120°C (-4°F to 248°F). While aluminum has good corrosion resistance in certain environments, it is not as durable as stainless steel in harsh conditions.

3. Brass:

Brass beam couplings have reasonable mechanical properties and corrosion resistance. They are suitable for applications with temperatures ranging from -20°C to 100°C (-4°F to 212°F). Brass is more susceptible to corrosion in certain environments, so it is essential to consider the specific application's conditions.

4. Plastic/Polymer:

Beam couplings made from plastic or polymer materials offer lightweight and cost-effective solutions. However, their temperature limits are more restricted compared to metal couplings. They typically operate between -30°C to 80°C (-22°F to 176°F). These couplings may not be suitable for high-temperature or chemically aggressive environments.

5. Carbon Steel:

Carbon steel beam couplings are known for their strength and mechanical properties. They generally operate between -40°C to 120°C (-40°F to 248°F). Carbon steel is vulnerable to corrosion, so it may not be ideal for applications in corrosive or humid environments without proper protection.
It's crucial to consider the temperature and environmental conditions of your specific application when selecting a beam coupling material. Choosing a material that can withstand the intended operating conditions will ensure the longevity and reliable performance of the coupling.
Additionally, keep in mind that various beam coupling manufacturers may offer specific variations of materials with different properties and limits. Always refer to the manufacturer's datasheets and technical documentation for precise information on the temperature and environmental limits of their beam coupling products.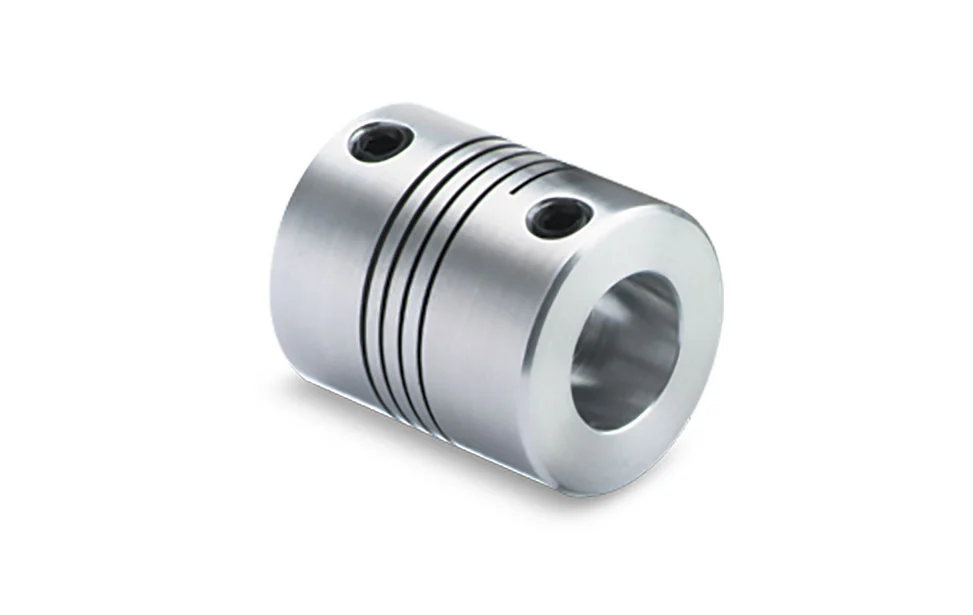 Materials Used in Manufacturing Beam Couplings
Beam couplings are commonly made from various materials, each offering unique properties that suit different application requirements. Some of the most common materials used in manufacturing beam couplings include:
Aluminum:

Aluminum is a lightweight and cost-effective material commonly used in beam coupling construction. Aluminum beam couplings are ideal for applications where weight reduction is essential, such as in robotics or aerospace systems. They provide moderate mechanical strength and flexibility while offering good resistance to corrosion.

Stainless Steel:

Stainless steel is a popular choice for beam couplings due to its excellent mechanical properties and high corrosion resistance. Stainless steel couplings are well-suited for demanding applications that require strength, durability, and resistance to harsh environments. They are commonly used in industries such as food processing, medical equipment, and marine applications.

Brass:

Brass is a material known for its good electrical conductivity and moderate strength. Brass beam couplings are suitable for specific applications that require electrical grounding or where non-magnetic properties are essential. However, compared to stainless steel or aluminum, brass couplings may have slightly lower mechanical strength and corrosion resistance.

Plastic/Polymer:

Plastic or polymer beam couplings are chosen for their lightweight and cost-effective nature. They are often used in applications where weight reduction is critical, and they offer electrical insulation properties. However, plastic couplings may have lower mechanical strength compared to metal couplings and are not suitable for high-torque applications or extreme environmental conditions.

Carbon Steel:

Carbon steel is a robust and widely used material for beam couplings. Carbon steel couplings offer good mechanical strength and are suitable for various industrial applications. However, they may not provide the same level of corrosion resistance as stainless steel and may require proper maintenance to prevent rusting.
The choice of material depends on the specific needs of the application, including factors such as required strength, weight constraints, environmental conditions, and corrosion resistance. Manufacturers often provide a range of material options for their beam couplings to accommodate diverse industrial and commercial uses.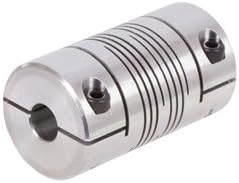 Differences between Single-Beam and Multi-Beam Couplings
Single-beam and multi-beam couplings are two common types of beam couplings used in motion control applications. While they both provide flexibility for misalignment compensation, they have distinct differences in design and performance. Let's explore these differences:
Structure:

A single-beam coupling consists of a single helical beam that connects the two shafts. It is a straightforward design with a single helix providing angular misalignment compensation. On the other hand, a multi-beam coupling has multiple helical beams arranged in parallel around the circumference of the coupling. The multiple beams increase its flexibility and enable compensation for angular, axial, and parallel misalignment.

Misalignment Compensation:

Both single-beam and multi-beam couplings are capable of compensating for misalignment between connected shafts. However, the level of compensation differs between the two types. Single-beam couplings are more suitable for applications with primarily angular misalignment. They can handle small amounts of axial and parallel misalignment but are less effective than multi-beam couplings in this regard. Multi-beam couplings, with their multiple beams, can efficiently accommodate more extensive misalignment in all three axes, making them suitable for applications with more complex misalignment requirements.

Torsional Rigidity:

Single-beam couplings typically have lower torsional rigidity compared to multi-beam couplings. This means that single-beam couplings may exhibit slightly more torsional flexibility and compliance under torque compared to their multi-beam counterparts. As a result, multi-beam couplings are often preferred in applications where high torsional rigidity is essential to maintain precise motion control and minimize backlash.

Applications:

The choice between single-beam and multi-beam couplings depends on the specific requirements of the application. Single-beam couplings are commonly used in applications where space is limited, and primarily angular misalignment needs to be compensated. They are suitable for less demanding misalignment scenarios and can be found in various motion control systems, including small automation machinery and robotics.

Multi-beam couplings are chosen for applications that require more comprehensive misalignment compensation. They excel in situations where misalignment can occur in multiple axes and are often used in precision motion control systems, optical equipment, and applications with high torsional rigidity and accuracy requirements.
In summary, single-beam and multi-beam couplings both offer flexibility for misalignment compensation in motion control systems. Single-beam couplings are simple, space-efficient, and suitable for applications with primarily angular misalignment. On the other hand, multi-beam couplings provide enhanced misalignment compensation in all three axes and offer higher torsional rigidity, making them ideal for precision applications with more complex misalignment requirements.



editor by CX 2023-11-07